What happens next?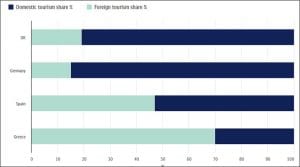 The holiday cottage industry is understandably going through a difficult time, much like the rest of the world, but we are all hopeful that there is light at the end of the tunnel.
We are beginning to see the first signs of restrictions being lifted or lessened around the world and we are all waiting patiently for our own country to return to normal. However, we don't expect things to bounce back to normal straight away and there is likely to a long transition process, particularly regarding travel and holiday. We believe this will result in an increase in domestic travel or 'staycation' within the UK.
Below are our thoughts on how we can ensure we are ready to deal with these bookings and make the most from a change in the travel and accommodation industry.
An increase in 'local tourism'

With restrictions and limitations on Air travel, some of which are yet to become apparent, we expect a great deal more holidays in 2020/21 will be planned around guests using their own cars to travel to their chosen holiday destination. Many people are likely to shun the crowds and proximity of other travellers at Airports and will opt for using their own cars. This will limit the distances most families will want to travel, thereby keeping a great deal of travellers within the UK.
We will also likely see an increase in shorter bookings for people looking to reconnect with family they may not have seen for many months. With industries and businesses eager to reopen and make up for lost time, we will likely see some restrictions on the length of holidays people will be willing to book. This will change over time, but initially it is important to be open to a short stay market.
The Isle of Wight is an ideal destination

The south east is already in the top 5 destinations for UK travellers, and the Isle of Wight is unique in this area, due to being an Island and partially cut off from the crowds. We have experienced a relatively low infection rate compared to other regions because of our geographical isolation. Visitors to the Isle of Wight can enjoy access to lots of wide open countryside and coastlines, avoid large crowds, cities and transport hubs and just enjoy a self-contained family break whilst staying safe and comfortable.
Political and social support for Staycations

Ever since the start of the restrictions, there has been a commonly shared sentiment to support local businesses rather than the larger established companies. We are hopeful that this sentiment will remain after restrictions are lifted and travellers will look to support smaller and independent business's rather than large multinational brands.
In recent years we have already seen a year on year increase in this type of booking, and we expect 2020 to see a large boost in people looking to book local and support small business and independent accommodation providers. Something the Isle of Wight has in abundance. 
UK tourism is much less reliant on overseas travellers, than some other European countries:
The return of international travellers
Expected to be the last phase in the lifting of restrictions, when international travel does return to normal, we should see another boost in visitors, especially from ex-pats returning to see family or friends they have been cut off from. These types of travellers are likely to want to stay for longer periods and will likely avoid the peak tourist seasons.
What can be done to help encourage bookings
At the forefront of everyone's choice for future bookings will be health and safety for themselves and their family, so it's vital that we can guarantee and advertise accommodation that is thoroughly clean and safe to use, especially with back to back bookings. There may be a cost to making sure a property is professionally cleaned and guests will inevitably judge accommodation that does not meet a more discerning guest. All property owners should be using the cleanliness of their property as a selling point, and not a deterrent.
We would suggest providing things like soap (with refills available), hand sanitiser as well as plenty of tissues or antibacterial wipes for consistent peace of mind and reassurance that travellers will seek.
Changes to cancellations and flexibility

This recent crisis has created an unprecedented level of cancellations and refunds across the whole accommodation and travel industry and in many cases, we have been forced to abandon previous policies and adopt a more flexible approach to how we handle cancellations or postponement of travel. We expect to continue to see a more flexible approach to bookings being implemented by many of the holiday rental platforms such as Airbnb & booking.com, and we may have to adapt flexible booking policies in the short term, while uncertainty remains.
Once travel demand returns, people may still be hesitant to travel and need an extra incentive. You can take steps to reassure guests and encourage them to book, for example by implementing a flexible cancellation policy.
Be prepared for change

Once restrictions are lifted there will likely be a rush to book places for the summer, and everyone will be competing for guests, so we expect there to be some cheap deals available, but this won't be for long as dynamic pricing models will quickly raise the prices on many platforms. In order to make the most of the remainder of the year, we need to remain flexible but also keep our eye on pricing trends to ensure we are selling our properties too low.
It is vitally important to be able to offer competitive prices and advertise your properties in as many locations as possible. The various platforms we use for this have all dealt with this crisis in different ways, some more favourable than others, but we need to maintain our presence on these sites in order to reach our wider audience.
What can we do to help

This recent crisis has hit all holiday property owners hard, and we all want to be able to bounce back and get bookings in, and we will be doing our utmost to generate bookings for our owners. If you have any questions about getting through this season, pricing, tips on cleaning, please get in touch with us and we would be happy to offer any advice we can. This applies to all property owners and not just our existing clients. We are all in this together and we would be happy to help anyone.
Please call us on 01983 525710 or email info@wightholidaylettings.co.uk